I've loved the original 1970s Willy Wonka and the Chocolate Factory movie for about as long as I can remember. From the silly songs, memorable characters, and the amount of delicious looking sweets, for me, it's a classic. I initially thought about dressing up as Veruca Salt, my favorite character, however, there's nothing more memorable than Willy Wonka himself! I decided to put a feminine spin on the classic costume (without the sexy that the packaged versions go for) with pieces that you may already have in your closet and items I found at my local Seattle Goodwill!
DIY Willy Wonka Costume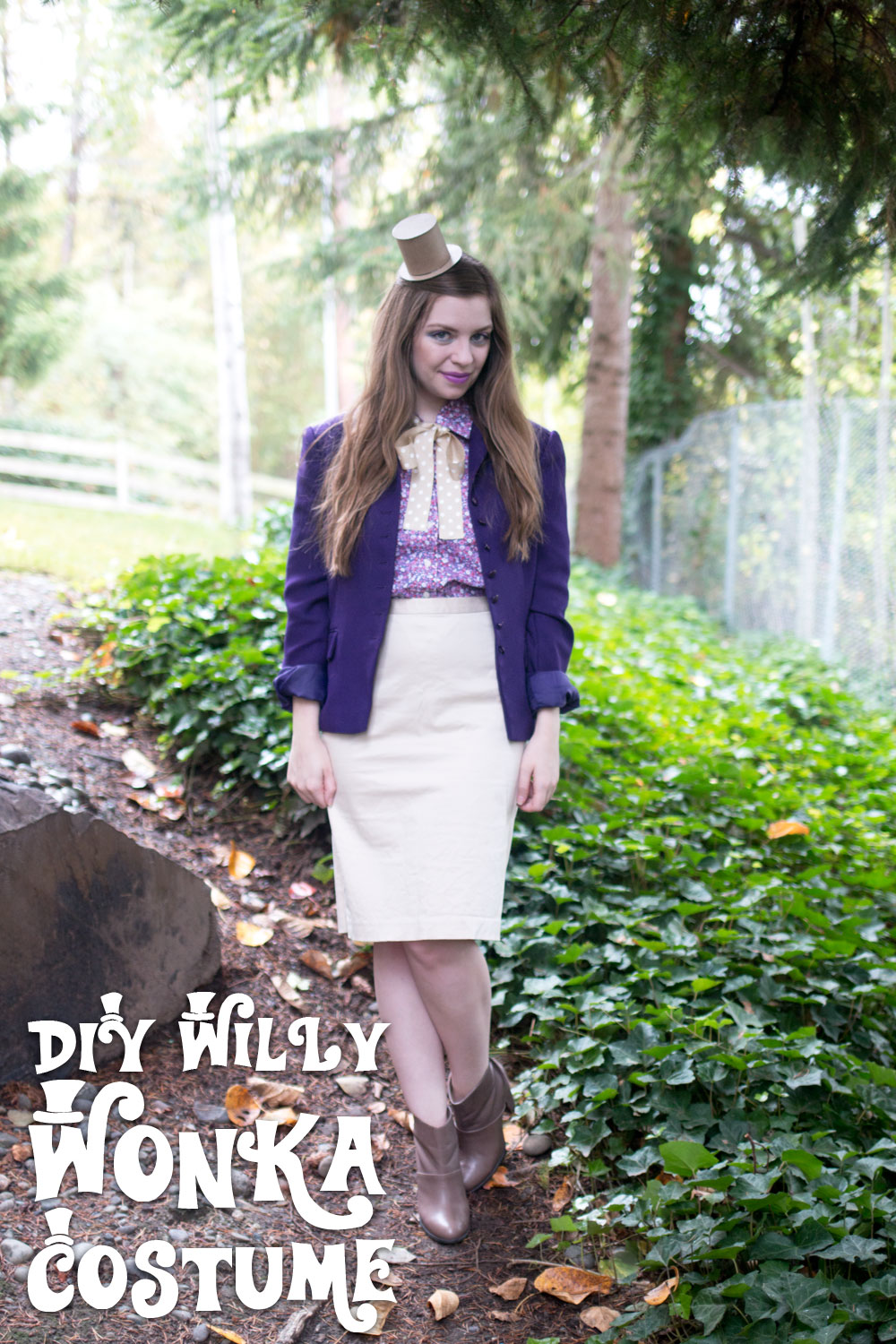 What You'll Need: Makeup
Affiliate Links: If you click on a link in this post, I may make a very small commission.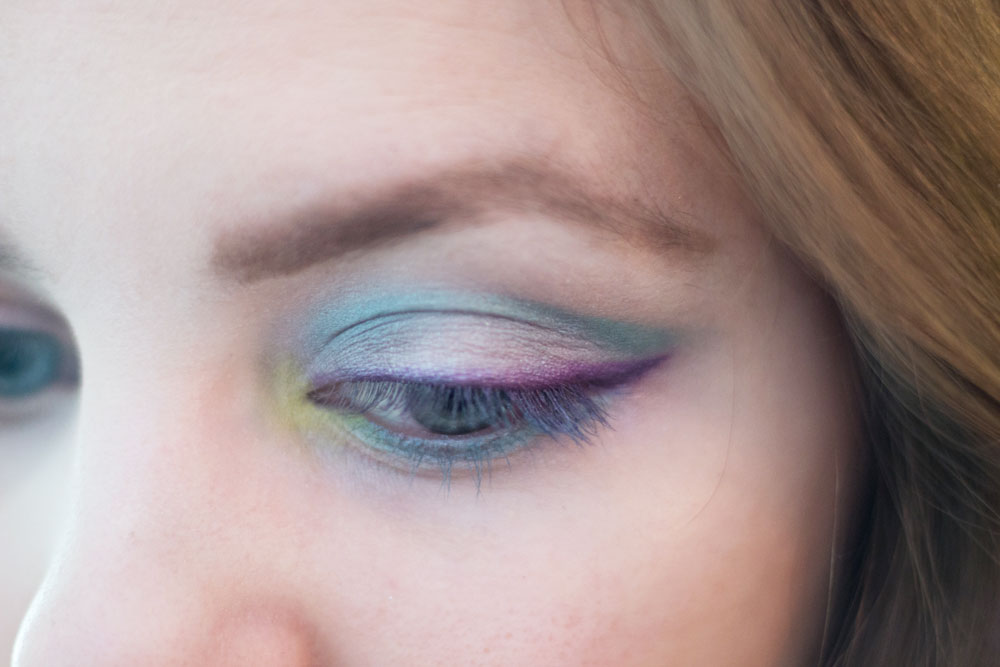 You can really do whatever you'd like for the makeup, however, I thought it would be fun to really play up the fun colors in the costume. I used my Too Faced Sugar Pop Palette for the majority of this look. I started with my NYX Jumbo Eye Pencil in Milk. Then, I topped it with Strawberry Ice from the palette. I blended Blue Raspberry into my crease and along the lower lashline. I lined my eyes with the eye pencil again and ran a purple eyeshadow from my Wet & Wild Venice Beach Boardwalk Boozing Palette (similar) across the upper lash line. I used Benefit's Push Up Gel Liner in Beyond Purple to line the eye. To finish off the look, I used the chartreuse shade from my Wet N Wild palette for the inner corner. For a final pop of color, I opted to wear a purple lipstick from Makeup Revolution in Depraved.
What You'll Need: Hair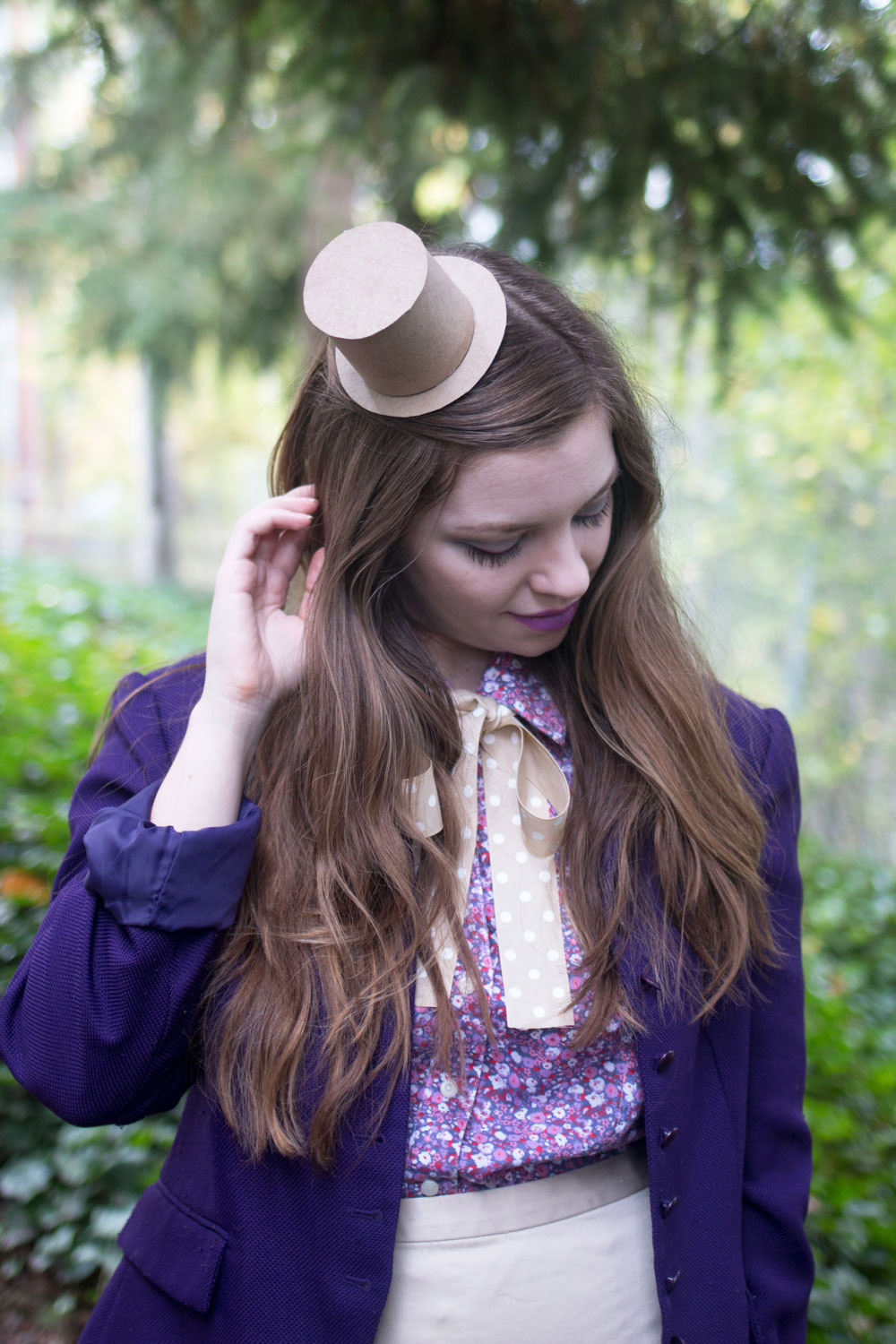 This is where the real DIY comes in. Depending on your budget, you can opt to either purchase a brown top hat or DIY it. I opted for the latter, as I wasn't sure I'd be using the top hat again. Plus, DIYing it is free and I liked the mini version of this hat. I loosely followed the instructions I found here, but I took a cereal box and traced the bottom of two different sized candles for the brim of the hat and the top of the hat. I then cut a long strip and cut it down to match the circumference of the top of my hat. I then taped all of the pieces together from the inside and pinned it with bobby pins to the top of my head. If you're feeling extra crafty, feel free to cover it with fabric, decorate it with ribbon, or paint it! If you're going to be wearing the costume to a party with dancing or for several hours, I'd recommend attaching the DIY mini top hat to a headband as well.
What You'll Need: Costume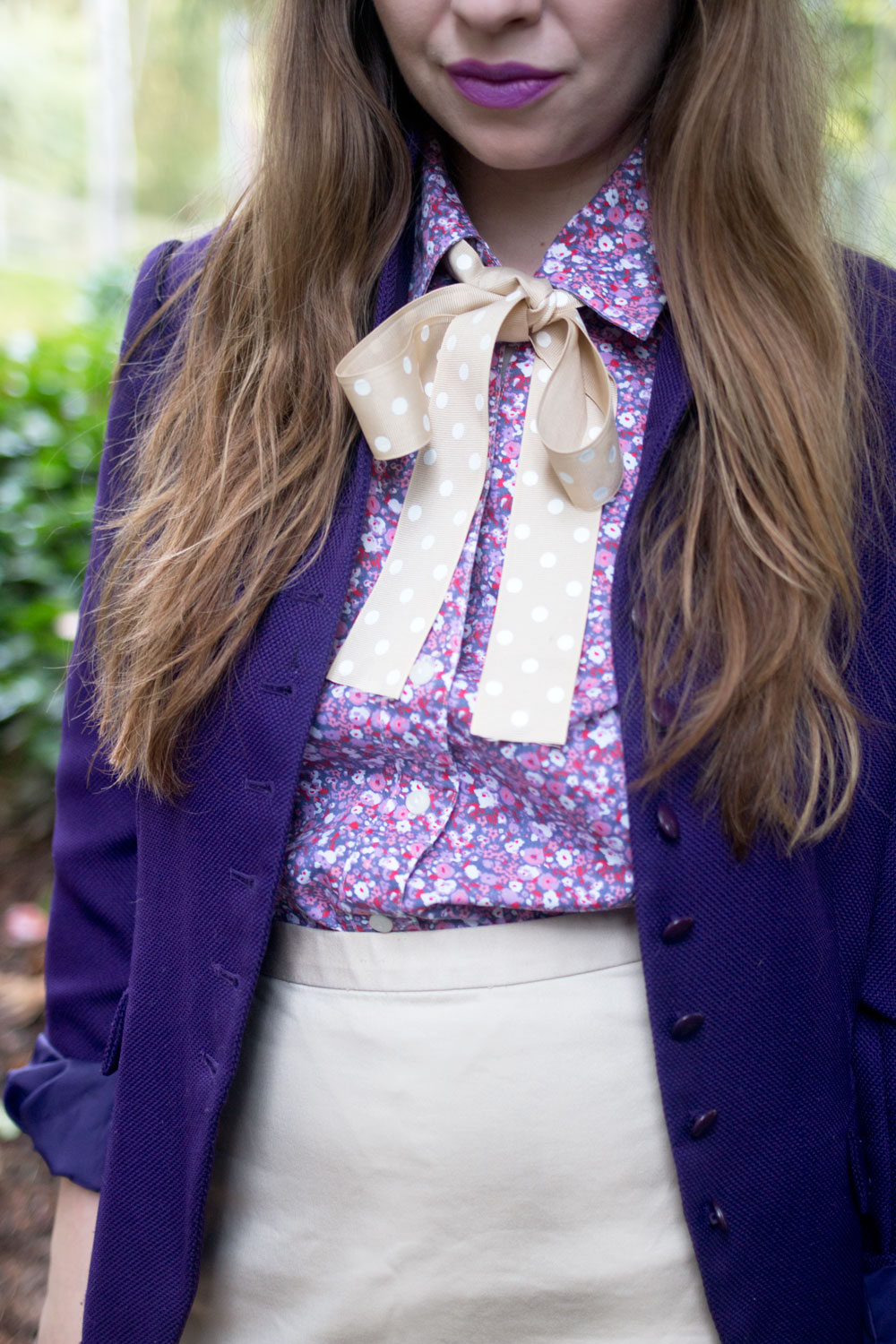 I felt like I really was lucky when it came to finding the pieces for this costume. The blazer itself was what I was most worried about finding, but my local Seattle Goodwill had two purple blazers (cost $4) to choose from. I recommend checking the entire rack and being open to pinning back a larger size if you need to. For the shirt, Willy Wonka actually wore a white button down with a purple floral print vest, however, that wasn't something I could find. Instead, I found a short sleeve purple floral button up (cost $5) that I used for the main shirt. I gathered the shirt at the collar with a piece of Offray Polka Dot Ribbon I found at my local Walmart (cost $3). For the bottoms, Willy Wonka wore khaki pants, but I thought a khaki pencil skirt (cost $4) would add a feminine flair and would be more re-wearable. Finally, I finished the outfit off with a pair of brown ankle boots that I already had in my closet (cost $0).
Have you figured out what you'll be dressing up as this year? I'd love to hear about your costume plans in the comments!

---
Follow Jenn: bloglovin / twitter / facebook / instagram / pinterest / g+ / youtube
---